1. General information about FIM mail accounts
Holders of a central FIM ID can use a FIM mail account linked to it. The central FIM mail services are primarily used for FIM-internal communication, but can also be used as full-fledged mail services. For example, you can also use the SMTP service to send mail from outside of the university network to your FIM mail address if you set the appropriate configuration settings (see below).
FIM-Mail adress
Your e-mail address at the FIM is: fimkennung@fim.uni-passau.de
fimkennung corresponds to the name of your FIM account. The password for access to the mail server is the same as the login password for the LINUX login.
You can send and receive e-mail with a variety of programs. We recommend the program "Thunderbird" in the FIM student computer pools to use the FIM mail services.
2. Configuration information for using the central FIM mail services
Alternatively, you can also use our IMAP service, which, unlike POP3, lets your mails stay on your FIM mail account:
Settings
Server name "imap.fim.uni-passau.de".
Username: Your FIM username
port 993
Connection security: "SSL/TLS " (Thunderbird mail client) or "Use SSL" (Apple Mail)
Authentication method: "Password, normal" (Thunderbird mail client) or "Password" (Apple Mail)
You can use the SMTP server mail.fim.uni-passau.de to send e-mails.
Settings
server name: "mail.fim.uni-passau.de".
Port: 587
Connection security: "STARTTLS" (for mail client Thunderbird) or "Use SSL" (Apple Mail)
Authentication method: "Password, normal" (for Thunderbird) or "Password" (Apple Mail)
Username: Your FIM username
The FIM uses the Expurgate service from provider Eleven to filter out spam mails. Mails that contain viruses are removed from circulation via appropriate virus software and are not delivered.
Important: Never reply back to the sender of an advertising mail/spam mail! This will only make your e-mail address even more valuable, because the sender will then notice that you do not simply delete advertising mail.
4. Access to the central FIM mail server from outside the university
4.1 Access via webmail interface
Users with FIM IDs can read emails on their FIM mail account worldwide via webmail interface. This webmail interface can be found at the following Internet address: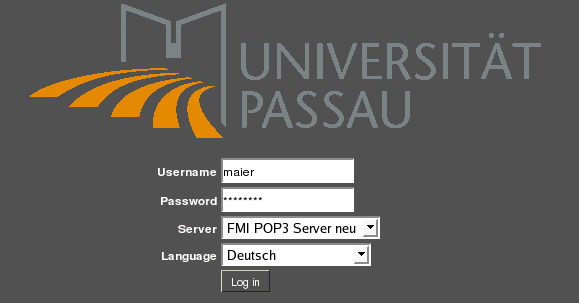 4.2 Access via e-mail client software
5. Set up mail forwarding
The FIM mail server offers the possibility to forward incoming mail to other mail identifiers and to filter it. We recommend that you set up mail forwarding in such a way that incoming mail on your FIM account is forwarded to a mail account that you use regularly by default. At the same time, a copy of each incoming mail should remain on the FIM mail server for control purposes.
You have the possibility to redirect e-mails arriving on your central FIM mail account to other mail addresses. To do this, log in with your FIM ID on a computer in the FIM student computer pools under LINUX. Then create a .forward file in your home directory. Enter the e-mail addresses (separated by commas) to which your FIM e-mails should be forwarded. If you want to keep a copy of each forwarded email in your mailbox, just add a line at the beginning with the content \fim identifier (instead of fim identifier, of course, use your FIM username). Be sure to check if your forwarding works as desired.
6. Filter mails using the "sieve" tool
Via mail filter you can automatically sort incoming mails into predefined mailboxes according to certain criteria (e.g. sender etc.).
You can also program automatic processes such as sending an out-of-office message when you are not available.
For incoming mails you can set filter rules using the sieve tool. There is a Thunderbird plugin for this purpose, for example. For first-time users of sieve: The version currently offered via the Thunderbird plugins causes problems when used with current Thunderbird versions. A current version directly from the developer can be found at github.com/thsmi/sieve/tree/master/nightly. Since March 2016 the previously available filtering via procmail is no longer supported.
Sieve settings:
Sieve Server: imap.fim.uni-passau.de
Sieve server port: 4190
Security: Connection security "TLS, if available", authentication "User name and password" (use FIM account as user name)
Example for sieve filter with vacation function. You can simply use the following text as a base in the Thunderbird plugin and adapt it for your purposes:
# Required sieve functions require ["fileinto", "regex", "reject", "vacation"]; # First of all, in this example, mails from certain senders are # immediately sorted into the appropriate Imap folders # This way, no more vacations are sent to these mails if header :contains "FROM" [ "root" ] { fileinto "Urgent"; } # Vacation configuration # If not on vacation, the domain dummydomain (which does not exist) is filtered and no action is taken # On vacation: put comment characters in front of dummydomain # For domains to which vacation mails should be sent, # remove comment characters elsif anyof (address :domain :contains "FROM" [ "dummydomain. de" # "fim.uni-passau.de", # "fmi.uni-passau.de", # "rz.uni-passau.de", # "zim.uni-passau.de", # "uni-passau.de ] ) { vacation # Reply at most once a day to a same sender :days 1 :subject "Out of office: vacation until 6.9." # List of additional recipient addresses which are included in the auto replying. # If a mail's recipient is not the envelope recipient and it's not on this list, # no vacation reply is sent for it. :addresses ["max.mustermann@uni-passau.de", "mustermann@fim.uni-passau.de"] "I am on vacation and therefore not available at work. In urgent cases please contact my deputy Mr. Otto Normalverbraucher. (otto.normal@fim.uni-passau.de, phone 0851 509 9999). With kind regards, Max Mustermann"; } # We keep all other mails in the inbox. # This rule would not be necessary, because already covered by the "implicit keep" # else { keep; }