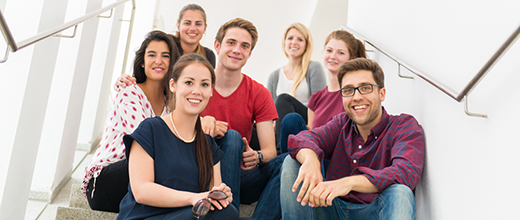 We are delighted that you are considering studying at the University of Passau.
How do I apply for a programme? What level of German proficiency do I need? How do I apply for a visa or residence permit? How do I go about finding accommodation in Passau? The International Office has the answers to these and many other questions, and offers practical help with formalities and what you need to know about living and studying in Passau.
Applying and registering for a programme
Whether you are planning to study an entire degree programme at the University of Passau or joining us for a semester or two through an exchange programme (e.g. ERASMUS, DAAD or a bilateral university exchange), we will help you with the application and matriculation requirements for international applicants.
A list of English-language courses suitable for undergraduate (bachelor's) students with little or no German-language skills can be found here. Please note that all incoming exchange students must complete a learning agreement to be approved by the Chair of the Board of Examiners before their arrival in order to be accepted to our Faculty.
English-language degree programmes
M.Sc. Artificial Intelligence Engineering, M.Sc. Computer Science & M.Sc. Computational Mathematics
The University of Passau is committed to supporting you in planning and organising your stay abroad. You can find more information about this under "Going abroad" .
International Coordinator
Wolfgang Mages
Room ITZ/IH 239 (Innstr. 43)
Innstr. 33
Phone: +49(0)851/509-3066
Fax: +49 851/509-3002
International Student Assistants
Our team of International Student Assistants is here to help you with all matters related to the visa process, housing, insurance, academics, course subscription, exam enrolment and student life in Passau. For assistance, please send an e-mail to master-help@fim.uni-passau.de.