VNREAL - EuroNF (European Network of the Future)
EU-Project (NoE, FP7-ICT-2007-1)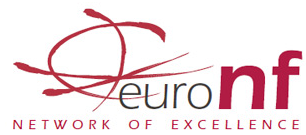 Grant No. 216366: VNREAL JRA.SJDE)
Principle Investigator
Prof. Dr. H. De Meer, University of Passau, Germany
Official Homepage
Network virtualization is one of the promising technologies to build the Internet of the future. To exploit the benefits of network virtualization special planning tools are necessary, which consider the specific aspects of isolation and resource allocation in such networks. The aim of the VNREAL project is the design and creation of a software tool that will enable computation of an optimal mapping of virtual resources onto physical resources. The software will allow the comparison and execution of different optimization algorithms (with different optimization criteria) and shall be open to extend capabilities to new algorithms added by the community as simple new modules. The tool will support the recent published results in network virtualization mapping and will contribute to new advances in virtualization mapping and strategies. In order to protect and guarantee the open use of this tool, the implementation will be under the GPL license and will be made available through EuroNF partner tools.

The specific objectives of this project are:
Design of new algorithms to solve the virtual network mapping problem, looking for the optimization of physical resources allocation.

Design of an open software tool implementing the main algorithms for optimization of SN resources mapping.

The software design shall include procedures allowing to compare results of different algorithms.

The software shall be open to the community to add new algorithms in a simple way.
University of Passau (Germany)
University of Würzburg (Germany)
Universitat Politecnica de Catalunya (Spain)