Self-Organising Systems - IWSOS 2006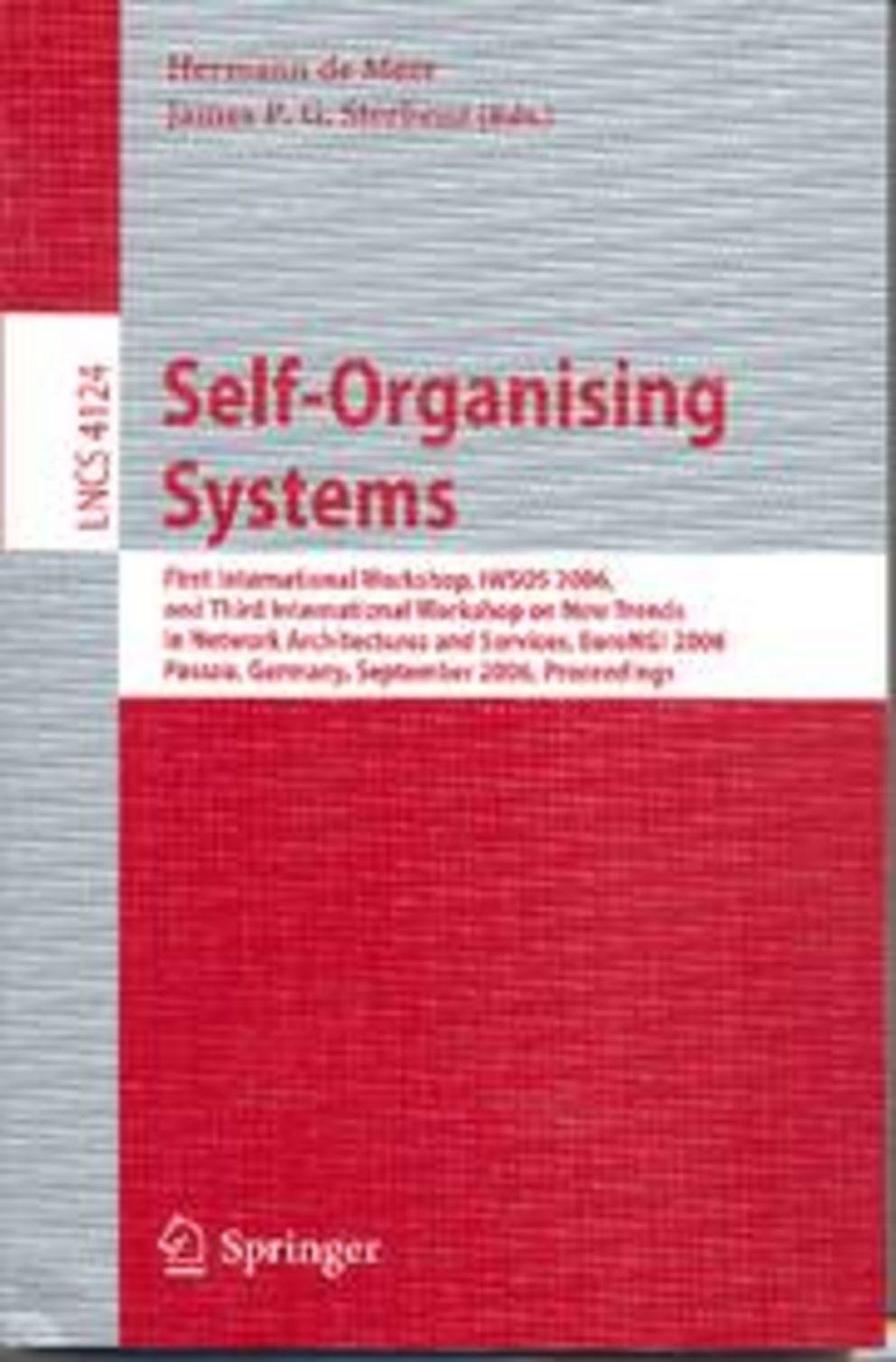 First International Workshop, IWSOS 2006, and Third International Workshop on New Trends in Network Architectures and Services, EuroNGI 2006, Passau, Germany, September 18-20, 2006 Proceedings
Hermann de Meer und James P.G. Sterbenz (Hg.)
ISSN: 0302-9743 (Print) 1611-3349 (Online)
ISBN: 3-540-37658-5
Paperback, 253 pages, Sept. 2006
Proceedings of the First International Workshop on Self-Organizing systems (IWSOS 2006) and Third International Workshop on New Trends in Network Architectures and Services (EuroNGI 2006) at the University of Passau, Germany, in September 2006.
"Self-Organizing systems emerge as an increasingly important area of research, particularly for computer networks. Auto-configuration and self-organization are key enablers for network optimization, self-management, self-diagnosis, self-repair, and autonomic networking in support of the increasing complexity and demands on the global Internet, as well as for emerging technologies such as ad-hoc, sensor and peer-to-peer overlay networks." [...] "This event was supported by the European Next Generation Internet (EuroNGI) Network of Excellence, which gathers major leading European institutions and researchers."
[Source: Self-Organising Systems, preface, Hermann de Meer and James P.G. Sterbenz]
I Invited Programme
Keynote
Robert van Renesse: Making Self-organizing Systems Secure
Panel
James P.G. Sterbenz: Self-organising Networks: Panacea or Pandora's Box?
II Full Papers
Dynamics of Structured and Unstructured Overlays
Anvitaman Datta, Karl Aberer: The Challenges of Merging Two Similar Structured Overlays: A tale of Two Networks
Ivan Martinowiv, Christof Leng, Frank A. Zdarsky, Andreas Mauthe, Ralf Steinmetz, Jens B. Schmitt: Self-protection in P2P Networks: Choosing the Right Neighbourhood
Self-organization in Peer-to-Peer Networks
Riikka Susitaival, Samuli Aalto: Modelling the Population Dynamics and the File Availability in a BitTorrent-Like P2P System with Decreasing Peer Arrival Rate
Thomas Fuhrmann: Combining Virtual and Physical structures for Self-organized Routing
Mirko Knoll, Torben Weiss: Optimizing Locality for Self-organizing Context-Based Systems
Self-organization in Wireless Environments
Volker Turau, Christoph Weyer: Randomized Self-stabilizing Algorithms for Wireless Sensor Networks
Frank A. Zdarsky, Ivan Martinovic, Jens B. Schmitt: The Case for Virtualized Wireless Access Networks
Self-organization in Distributed and GRID Computing
Kevin Ross, Nicolas Bambos: Job Scheduling for Maximal Throughput in Autonomic Computing Systems
Kevin L. Mills, Christopher Dabrowski: Investigating Global Behavior in computing Grids
Daniel Merkle, Martin Middendorf, Alexander Scheidler: Using Decentralized Clustering for Task Allocation in Networks with Reconfigurable Helper Units
Self-organization for Network Management and Routing
Poul E. Heegaard, Otto J. Wittner: Self-tuned Refresh Rate in a Swarm Intelligence Path Management
Djamel Djenouri, Nadjib Badache: Cross-Layer Approach to Detect Data Packet Droppers in Mobile Ad-Hoc Networks
Cheolgi Kim, Kisoo Chang, Joongsoo Ma: On-Demand Distributed Energy-Aware Routing with Limited Route Length
Self-organization and Autonomic Computing
Rainer Buchty, Jie Tao, Wolfgang Karl: Autonomic Data Locality Optimization Through Self-optimization
Andreas Pietzowski, Benjamin Satzger, Wolfgang Trumler, Theo Ungerer: A Bio-inspired Approach for Self-protecting an Organic Middleware with Artificial Antibodies
Mikael Desertot, Clement Escoffier, Philippe Lalanda, Didier Donsez: Autonomic Management of Edge Servers
III Short Papers
Namhi Kang, Ilkyun Park, Younghan Kim: Ubiquitous Zone Networking technologies for Multi-hop Based Wireless Communications
Arne Handt: Proposal for Self-organizing Information Distribution in Peer-to-Peer Networks
Mohamad Aljnidi, Jean Leneutre: Autonomic Security for Home Networks
Axel Wegener, Elad M. Schiller, Horst Hellbrück, Sándor P. Fekete, Stefan Fischer: Hovering Data Clouds: A Decentralized and Self-organizing Information System
Alexandre Schulter, Kleber Vieira, Carlos Becker Westphall, Carla Westphall: Defending Grids Against Intrusions
Florian Mösch, Marek Litza, Adam El Sayed Auf, Erik Maehle, Karl E. Großpietsch, Werner Brockmann: ORCA - Towards an Organic Robotic Control Architecture
IV Posters
Michal Procházka, Petr Holub, Eva Hladká: Active Element Network with P2P Control Plane
Rainer Buchty: A Monitoring Infrastructure for the Digital on-demand Computing Organism (DodOrg)
Shafique Ahmad Chaudhry, Ali Hammad Akbar, Faisal Siddiqui, Ki-Hyung Kim: Autonomic Network Management for Wireless Mesh and MANETs
Author Index