Proceedings of the e-Energy 2010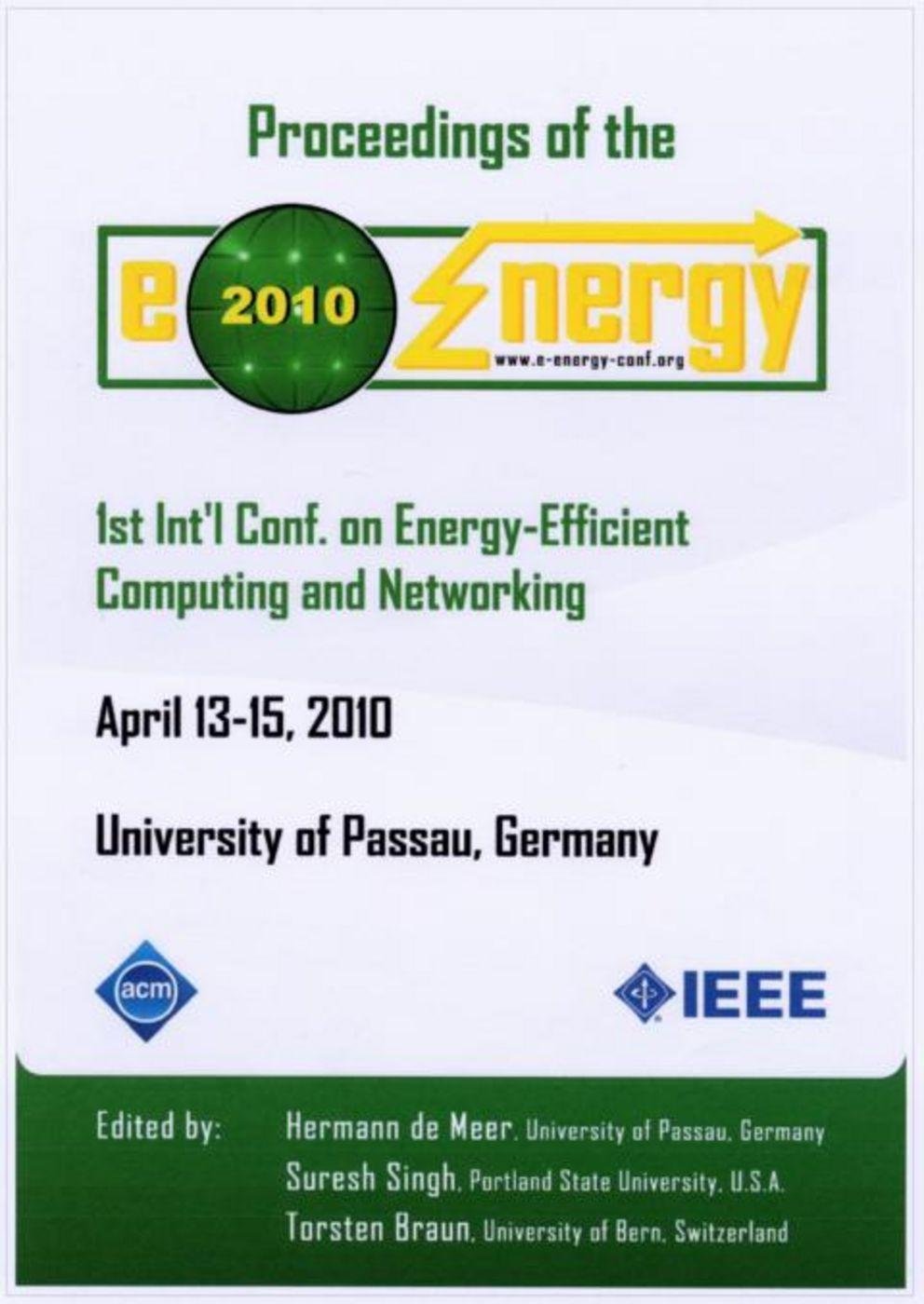 1st International Conference on Energy-Efficient Computing and Networking, April 13 - 15, 2010, Passau, Germany
Hermann de Meer, Suresh Singh and Torsten Braun (Hg.)
ISBN 978-1-4503-0042-1, acm digital library, 239 pages, 2010
All publications of "Proceedings of the e-Energy 2010" were presented on the 1st International Conference on Energy-Efficient Computing and Networking. This Conference took place in April 2010 at the University of Passau, Germany.
Energy-Effiicient Home and Office Environments


ICT for Green – How Computers Can Help Us to Conserve Energy
A Virtualized Energy-Efficient Office Environment
Profiling Energy Use in Households and Office Space


Energy Efficiency and QoS

Optimal Sleep Patterns for Serving Delay-Tolerant Jobs
Energy Saving and Network Performance: a Trade-off Approach
Statistical Static Capacity Management in Virtualized data Centers Supporting Fine Grained QoS Specification
Event-Driven Processor Power Management

Energy-Efficient Wireless Networking

Mobile Networks Unplugged
Practical Power Modeling of Data Transmission over 802.11g for Wireless Applications
Combustible Gases and Early Fire Detection: An Autonomous System for Wireless Sensor Networks


Energy Reduction Measures

Multi-facet Approach to Reduce Energy Consumption in Clouds and Grids: The GREEN-NET Framework
Managing End-User Preferences in the Smart Grid
The New Frontier of Communications Research: Smart Grid and Smart Metering
Policy-Driven Distributed and Collaborative Demand Response in Multi-Domain Commercial Buildings
Power and Cost Aware Distributed Load Management
Allocating resources greenly: Reducing energy consumption or reducing ecological impact?


Modeling, Monitoring and Accounting

Energy Benchmarks: A Detailed Analyses
Accounting for the Energy Consumption of Personal Computing Including Portable Devices
An Approach to Reduce the Energy Cost of the Arbitrary Tree Replication Protocol


Energy-Efficient Networking and Protocols

A Simple Analytical Model for the Energy-Efficient Activation of Access Points in Dense WLANs
Energy-Aware Traffic Engineering
Greening the Internet with Content-Centric Networking
GreenCoop: Cooperative Green Routing with Energy-Efficient Servers

Energy-Efficient Data Center Technology

Energy-Efficient Cluster Computing with FAWN: Workloads and Implications
Introducing Scalileo – A Java Based Scaling Framework
Towards Energy-Aware Scheduling in Data Centers Using Machine Learning
A Dynamic Optimization Model for Power and Performance management of Virtualized Clusters
Hermann de Meer, PhD, Professor in the Faculty of Computer Science and Mathematics, University of Passau. He holds a chair in the Computer Networking and Communications Department; has published more than eighty peer-reviewed articles on performance modeling, computer networking, self-organization, quality of service, and Peer-to-Peer systems; and holds several international patents on related topics.
Suresh Singh, Professor at the Department of Computer Science, Portland State University.
Torsten Braun, Director of the Institute of Computer Science and Applied Mathematics at University of Bern.