IM-Workshop Bernried 2019
IM-Workshop 2019 on Signals, Images, and Approximation
Bernried, March 4 - 8, 2019
International workshop on interesting mathematics. The goal of this workshop is to bring together researchers in Applied Approximation with a focus on mathematical aspects of Signal and Image Processing, including subdivision, frame theory, sparse methods, ...
The workshop takes place in the Bavarian forest and has the goal to be an occasion for scientific interaction, discussion and collaboration in an "Oberwolfach" style (without library). Participation is suggested for the full duration of the workshop, and there will be a joint excursion on
Wednesday afternoon.
There will be no parallel sessions, no invited or plenary speakers and participants can submit two types of talks: survey or detail talks of about 40 min or a focused presentation of a result in 20 min.
The conference will take place in the Hotel "Bernrieder Hof"
http://www.bernrieder-akademie.de/
Bernried can be reached via Plattling (which is connected quite well by train
to the international airports in Frankfurt and Munich).
We look forward to you and your contributions!

With best regards,
Costanza Conti
Mariantonia Cotronei
Nira Dyn
Brigitte Forster-Heinlein
Tomas Sauer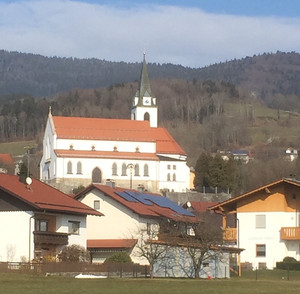 Batenkov Dimitry, Massachusetts Institute of Technolog
Charina Maria, University of Vienna
Conti Costanza, Università di Firenze
Cotronei Mariantonia, Università Mediterranea di Reggio Calabria
Dell'Accio Francesco, Università della Calabria
Diederichs Benedikt, University of Passau/Fraunhofer EZRT
Di Tommaso Filomena, Università della Calabria
Diaz-Fuentes Rafael, Università dell'Insubria
Groselj Jan, University of Ljubljana,
Hormann Kai, Università della Svizzera italiana
Hüning Svenja, Graz University of Technology,
Kountchev Ognyan, Bulgarian Academy of Sciences
Lopez Urena Sergio, Universitat de Valencia
Martin Florian, Technische Universität Darmstadt
Massopust Peter, Technical University of Munich
Mejstrik Thomas, University of Vienna
Reif Uli, Technische Universität Darmstadt
Rüweler Dörte, University of Passau
Sande Espen, University of Oslo
Sauer Tomas, University of Passau/Fraunhofer IIS
Schiermeier Kathrin, University of Passau
Skrzipek Michael, Fernuniversität in Hagen
Speleers Hendrik, University of Rome Tor Vergata
Stock Michael, University of Passau
Vapetic Ales, University of Ljubljana
Zagar Emil, University of Ljubljana and Institute of mathematics